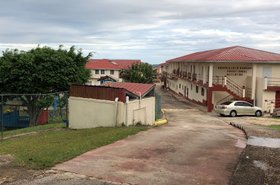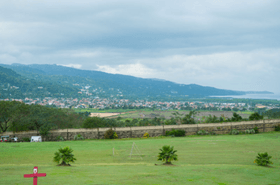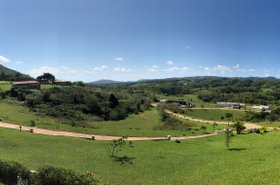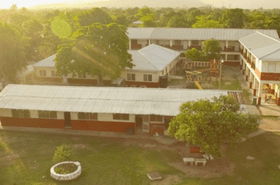 Receiving an effective education and dignified employment as a Deaf person in Jamaica can be met with great difficulty. The Caribbean Christian Centre for the Deaf (CCCD) is an organization that provides the Deaf with an accessible education, authentic community, and knowledge of the Gospel through the operation of three residential schools and one Deaf village.
CCCD is an organization out of West Michigan that has opened schools specifically for the Deaf. For over 50 years now, students have been able to learn sign language, form relationships, gain an education, obtain vocational skills, and ultimately go out into the world. However, many would graduate and have nowhere to go due to the overall lack of awareness, rights, and accessibility for the Deaf in Jamaica.
The Jamaica Deaf Village (JDV) was started in the 1980's for families to live and have community. The campus has apartments, a church, wood working shop, community center, and the ability to employ and find people jobs.
1957
Rev. Willis Ethridge and his wife, Mildred, started the Christian Deaf Fellowship Center in Kingston, Jamaica. They were shortly joined by the first deaf American missionary, Paula Montgomery. A school with eight students and the staff of three was opened on a property in Manchester Parish.
1962
The school moved to its present location in Knockpatrick following increasing momentum and need. Less than 5 years later, there were 40 students on campus. Today, there are over 80 students at Knockpatrick.
1984
While the school campuses graduated class after class, the graduates were struggling to find work with employers who had the time and resources to devote to learning to communicate with the deaf. As a result, many in the Deaf population were unable to provide for their basic needs of food, clothing, and shelter. So, the CCCD ministry began developing the 100-acre Jamaica Deaf Village (JDV) in 1984. This would eventually serve as a place for Deaf adults and their families to find meaningful employment while living in community.
1990
A second campus was built in Montego Bay, Jamaica after 7.5 acres of land were generously donated. Today, there are around 20 students on campus in the furthering education program (CADE).
1994
The old Christian Deaf Fellowship campus in Kingston was reopened as a new CCCD school. As the capital of the country, Kingston is home to half the population of Jamaica. Today, there are around 60 students on Kingston's campus which is also home to the Deaf Can! Coffee shop.
2002
The JDV had grown with the help of mission teams to have a church, a woodworking factory, apartment complexes, and more. As a result, the first villagers moved onto campus and continue to have consistent employment (the woodworking shop is BOOMING!) and live in meaningful community.
CCCD's Mission:
Enabling full language access and affirmation in an inclusive community whereby knowledge is empowered to know the Lord, appreciate diversity and understand the functions of the world. ~Romans 12
Vision

statement

:
Reach, Teach and Nurture the Deaf